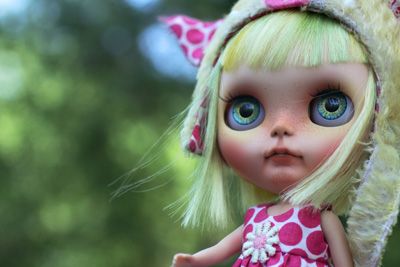 Prism is here!
This is the newest happibug, "Prism". Prism grew up in the Primrose Forest,
where colorful light finds its way through the trees and illuminates the forest floor in a kaliedoscope of color. She brings that light and love to you!
Prism will be in my etsy shop, dollicious, at 7:00 p.m. CST Tuesday, May 6th.
Prism travels in her bright pink and pale yellow fox hat and pink dress that I just finished making for her yesterday, plus her coolcat floral lace tights and boots.
Prism is a University of Love base dolly (rbl) with a "Simply Love Me" scalp cut into a swingy, feathered bob, and hand-tinted with greens and yellow highlights. Prism's make-up is all airbrushed with handpainted details, featuring carving, freckles, and mod stripe-y lids in lime and turquoise. Prism has four of my hand-painted chips made especially for her, and she has custom pulls made from czech glass and crystal beads, with vintage "prisms" at the ends of the pulls. Prism has a special little message on the back of her head just for you. Prism is created with much love, care, and attention to detail, and she is my 184th custom girl.
All of my dollies are made from stock Takara base dolls (no TBL's, factories, or clones) and each dolly comes with a complete outfit of my own design that I made just for her!
Thank you for visiting with me and Prism!